Phone: 646-257-3742 Email: info@diamondarts.net

The Power and Profitability of Trust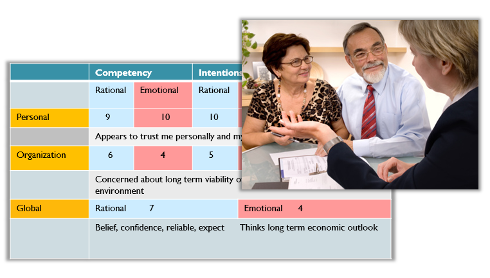 The Power and Profitability of Trust was developed for educating Financial Advisors on how to better serve their clients. However the underlying principles are important to all aspects of the financial service sector.
The relationship between Financial Advisors (FA) and their clients is changing. In the wake of these changes, "Trust" – what it is, how to achieve and maintain it – will become one of the most important topics in the financial service industry. Success – for both the individual and the organization - will depend on the ability to establish and maintain "trusted" relationships between FAs and their clients.

The challenge: Despite the acknowledged importance of trust, the concepts about the nature of "trust are so vague and abstract, few people can define what trust is, no less evaluate or measure it – or have specific strategies to develop and maintain it.

The Power and Profitability of Trust is an original program that addresses these challenges directly by providing:
An easy-to-understand, yet comprehensive model of the core principles of trust – on a personal,

company, and global level.
A simple methodology to evaluate and measure the level of trust between Clients, FAs, and the

company.
Effective and actionable strategies to develop and maintain levels of trust with established c

lients,
Innovative trust-based approaches to acquiring new Clients – including high net-worth

individuals.
The Power and Profitability of Trust was originally developed in 2011 in conjunction with the Learning and Development programs at one of America's major financial institutions. The program was presented over the course of three years to top tier financial managers. Based on feedback from FAs who took the program The Power and Profitability of Trust was one of highest rated and most valued programs at the Company where it was presented. The Power and Profitability of Trust has been updated and revised to address new developments in the present market environment.
_____________________________________________________
The Power and Profitability of Trust: Testimonials (feedback) from Merrill Lynch Financial Advisors who participated in The Power and Profitability of Trust program:

"I found this session to be very instructive. Without trust we would not be managing our client relationships, they would be choosing a different practitioner."

"Assuming 5 is the highest score, I would rate it at the top. If we do not have the trust of our client, we are out of business. This is investment management and relationship 101."

"Another great call – this is really the CORE of what we do. I found this information to be very useful and plan to incorporate a lot of the conversations into my daily conversations with clients."

"EXACTLY this – is what I used 2x yesterday when I met with referrals – back to back – we set aside the INVESTMENTS and focused on the TRUST – getting to know one another..."

"While talking with existing clients and prospects, I usually have a written agenda of things to do...one copy for the client/prospect and one for me. Mine will have a special note at the top with the word
"Trust" on it so that I can remember to empathize."

"I've been blessed to be on your short list of training groupies- for which I am eternally grateful, but that being said - I see a lot of concepts presented. Stuart's presentation on Trust being the key issue to
successful relationship building brings a different perspective that neatly ties up the difference between effective and ineffective practitioners and presenters."

"I really liked the Power of Trust Grid- there is a lot you can do with it... and believe I can mentally tick off the grid topics in conversation ;-) "

"Loved- loved- loved it! I'll give it a 5 and can't wait for tomorrow's class!"

"Most valuable today was the encouragement to ask good questions that show genuine interest, yet allow you to know more about the client better to build their trust. Plus, it allows you to steer the
conversation the direction you might want to go."

"I thought it was helpful to have a discussion on what trust is and how to quantify it. That helped me to begin to think outside the box in how to gain the trusts of my clients. Very thought provoking."
"5, makes you think about where people are coming from and needing to rearrange what and how I say things to people."

"Most valuable is that we can place this essential topic into a constructive reference table and begin to address it with prospects and clients."

"Addressing trust issues based on client experiences in the financial markets since the year 2000 are as important to an advisor's practice as showing up ready to go to work every day!"

"I found the continuation of the call to be just as powerful as the first session. There is a lot of power behind the implementation of a little consumer psychology. "

"This was a SUPER call series, and I hope that you renew the opportunity to bring Stuart's presentation to others! I'd give it a 5 with a bullet. "