Phone:
646-257-3742
Email:
info@diamondarts.net
We offer a range of business education and training programs.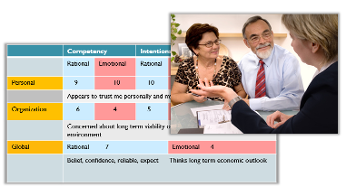 THE POWER and PROFITABILITY of TRUST
The Power and Profitability of Trust
w
as developed for educating
Financial
Advisors
on how to
better
serve their clients. However the underlying principles are important to all
aspects
of the
financial
service sector.
With the advent of the new Department of Labor Fiduciary rules, the relationship between Financial Advisors (FA) and
their clients is changing. In the wake of these changes, "Trust" – what it is, how to achieve and
maintain it – will become one of the most important topics in the financial service industry. Success – for
both the individual and the organization - will depend on the ability to establish and maintain "trusted"
relationships between FAs and their clients.
The challenge: Despite the acknowledged importance of trust, the concepts about the nature of "trust
are so vague and abstract, few people can define what trust is, no less evaluate or measure it – or have
specific strategies to develop and maintain it.
The Power and Profitability of Trust is an original program that addresses these challenges directly by