Phone: 646-257-3742 Email: info@diamondarts.net
The story begins with music -- classical and electronic - pioneering new approaches to music production - both in the studio and in live performance. Composed and produced film and video scores, dance scores, TV and radio commercials, and dozens of concert pieces - everything from chamber music to full symphonic works. Click on the individual icons for more info. (Click Here for Reviews.)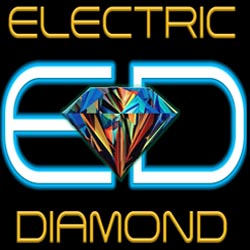 ELECTRIC DIAMOND is one of the longest-lived electronic performance ensembles - 35 years plus and going strong. ELECTRIC DIAMOND's performances are truly "live", without the use of any computer sequencing or multi tracking techniques.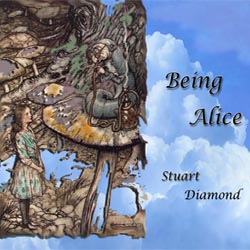 BEING ALICE - Purports to be the recently discovered musical manuscript that was meant to accompany the adventures of Alice in Wonderland. A Theme and Variations in multiple versions - including electric orchestra, chamber orchestra, and children's orchestra.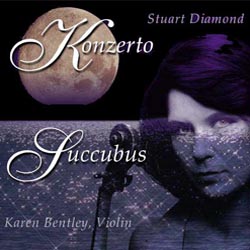 KONZERTO is a four movement concerto for solo violin and electronic orchestra. Karen Bentley Pollick is the violinist.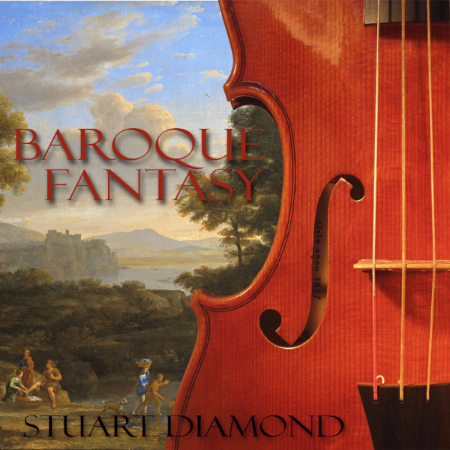 Baroque Fantasy for solo violin was written for Max Pollikoff. He premiered the work at "The Music in Our Times Series" at The 92nd Street YMHA in New York City . Karen Bentley Pollick performed the work in 2012 as part of a video music series.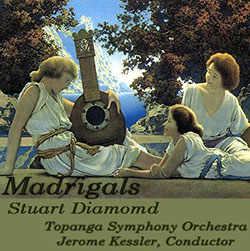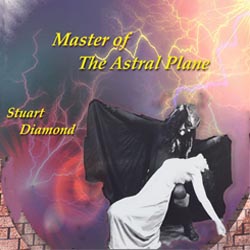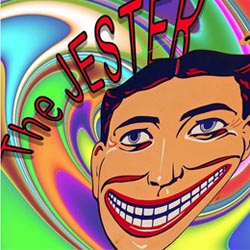 The Jester is an electronic song cycle with words by Robert Host. A 1972 work using the original analog modular synthesizers - Buchla, Arp 2500 and Baldwin Electric Harpsichord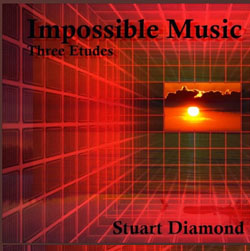 Impossible Music Remember DOS... Three etudes using early DOS-based sequencer and notation software controlling a Proteus, an early multi-timbrel sampler. 1. Based on a simple 4 bar ground bass. 2. Explores 10. (10/4 with 10/8). 3. Explores 13. (13/4 with 13/8).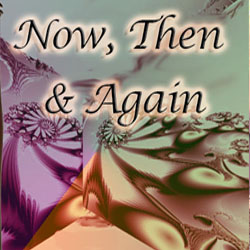 Then, Now & Again. Classical Electronica, Three movements.
FULL LIST OF MUSICAL WORKS
ORCHESTRA
Concerto for Two Pianos Scenes for Four Keyboards and Orchestra
Paean for Soprano and Orchestra
Four Cameos for String Orchestra
"Macha" for Baritone and Orchestra
Flute Concerto
Three Madrigals
Nexus Jazz for Flute and Chamber Orchestra
The Skies of Thunder Moon
Concerto for Lyricon & Orchestra
CHAMBER MUSIC

Duo for flute and bassoon String Quartet in E Minor
String Quartet #2 Quartet for Winds and Piano
The Resurrection baritone and ensemble
The Goddess for flute and soprano
Fragments from a Lost Adventure (Fl & Gt)
Baroque Variations (Fl, Bsn, & Pn)
Songs of the Courtesans (AlFl, Gt, Sop)
Cabaret Songs alto flute and guitar
Jazz Trio flute, bassoon and piano
Brass Quintet
M String Quartet
Sonatine for Flute/Violin/Cello and Guitar/Harp
SOLO WORKS

Prelude and Toccata for Piano
Concert Pieces for Piano
Five Dances for Piano
J'AN for solo flute
J'AN II for alto flute
Mists for bass flute
Music for a Rainy Night cello and piano
Wedding Music for cello and piano
The Dreams of JEZ clarinet and piano
Sonata for violin and piano
Song of Songs soprano and piano
Circus Music bassoon and piano
Jazz Sonata alto flute and piano
Clarinet Solo
Two and Three Part Inventions for Piano Preludes for Piano
Baroque Fantasy solo violin
Ghost Fantasy solo violin
Solo Fantasy for Bassoon
Children's Tales for flute and Harpsichord
Sonata for Cello and Piano
Brooke Piano Solo
Revolutionary Tales Piano Solo
The Resurrection baritone and piano
Ballad for No Proper Man baritone and piano
Garden of Love baritone and piano
Images for Piano Solo
FILM and VIDEO

President Macbeth
Winding Down
Two Hundred Years in the Future
With Our Own Hands
MainStay Series
Hands Across America
SmokeOut Journey
The Submerged Lake
Windows
The Greatest Hits of 2150
The Oddest Duet


THEATER, OPERA and DANCE
Lulu for Now
Emperor Bamboo
Darling Poor Darling
The Visitation
Master of the Astral Plane
Cockroach Cabaret
Beauty Beast
Dances for a Summer Evening
OverDrive
Lancelot
Bachianas Colorturis
Theme and Variations


ELECTRONIC MUSIC and COMPUTER GENERATED MUSIC
The Jester
Psalms
The Adventures of Andrew in the Land of Odibil
Darling, Poor Darling
Succubus (Flute and Tape)
Diana et Acteon (Flute and Tape)
Japanese Ghost Stories Rituals
OverDrive
The Greatest Hits of 2150
Fantasy
Beauty Beast
StarSail
Theme and Variations
Three Pieces for Summer Music
KONZERTO for Solo Violin and Electric Orchestra
Being Alice
Then, Now and Again

ELECTRONIC ENSEMBLES
Lyric Images
Dances of Merlin
Beauty and the Beast
K for Electric String Quartet
Symphony for two Synthesizers
Sonatine Prophetique
Painted Clouds Sonata for Lyricon and Piano
Sirens
CHILDREN'S MUSIC PROJECTS
The Greatest Hits of 2150
Chico and the Chick
The Magic Mandarin
CHORAL MUSIC

The Man of Music
The Son's Prayer
Hue Man
Madrigals
The Fire of Sun
I Thee I Sing
Child of Love
Contact Information
Phone: 646-257-3742 Email: info@diamondarts.net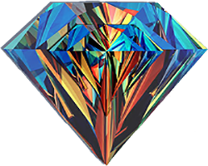 All Rights Reserved
c. 2019
Contact Information
Phone: 646-257-3742
Email: info@diamondarts.net